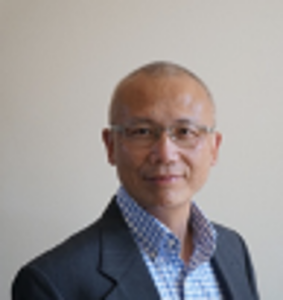 We think we're building a very special company and this starts with our team. We're growing extremely fast and are seeking the best and brightest talent to join us on our journey. To help attract world-class talent, we're kicking off 2021 with a new monthly series called the Lucidite Spotlight. In our first installment, we talk with Charles Feng, our CTO and Co-Founder. Not only is Charles a genius mathematician and engineer, but he's also an avid hiker who enjoys nature and gardening.
Tell us a bit about yourself. What was your background prior to Lucidum and what's your current role and day-to-day at Lucidum?
By trade, I am an applied mathematician and engineer. I have worked in a variety of industries, including semiconductor IC circuit manufacturing, eCommerce for the travel industry, software companies, and security. The common theme throughout my experiences has been applying math, statistics, data science, and machine learning to solve business problems that may seem vastly different, but can be solved through unifying underlying math concepts.
I am currently the CTO of Lucidum, and my day-to-day work includes managing product development, deciding technology stacks, designing architecture, product management, recruiting talented engineers, deploying products, and delivering value to our customers. At the same time, I gather information and feedback to validate our product.
What's it been like watching Lucidum grow from just an idea to launching in October 2020 and servicing early-access customers?
It's incredible to think back to when the journey first began. The most significant event since that time has to be defining the Lucidum platform. Joel, Lucidum's CEO and co-founder, got his Ph.D and has lots of experience in security. We became friends eight years ago when we both worked at Symantec – and we knew we wanted to build a product that utilized math to solve security problems. With so many great ideas, I really enjoyed the process of narrowing down potential products, which truly was a challenging, but a deeply informative experience.
After a few months of researching, discussing, and talking to potential product users, we decided to focus on asset discovery without using agents and scans, but using the customer data to discover all assets, users, and applications with machine learning. Now, looking back, the problem and approach we chose to solve this problem is a perfect reflection of our unique background and experience.
I still remember a very interesting moment that occurred when I interviewed an engineer. He asked me this question: "Charles, in today's age, everybody claims that they use ML or AI in their products or services. Is this what you're doing too?" I answered him sincerely, explaining that through taking all the data together, the aggregation and deduplication of the data does not solve the unknown unknowns problem and we did, in fact, harness ML and AI in solving the problem of unknown unknowns.
I am very grateful for the trust of early-access customers in Lucidum. I am delighted to hear from our customers that Lucidum has been the solution to their problems. Even through tackling obstacles, I always have had a competitive and persevering spirit. When customers tell us that they can find the asset in our company's CMDB but not in a supposedly competitive product, that is a validation of the efficacy of our proprietary algorithms to triangulate, detect, and classify the product. For me, as a technologist and mathematician, that is worth far more than money.
How have you brought what you've learned through your time at Splunk, Symantec and HP to Lucidum?
Splunk harbors a strong spirit of innovation, a mentality I share and deeply emphasize at Lucidum as well. We want to be a product-focused company, and innovation and advancement is absolutely key to us.
Symantec is where I started to work with Joel when he led the security team and I ran the center of advanced machine learning. We started to collaborate, through which he introduced me to the security field and allowed me to learn cybersecurity, how SOCs work, and how to build security data visualization tools and speed up investigations.
HP was the first company I worked for after graduation with my Ph. D degree many years ago. The "HP Way" book helped me instill core values about company to respect and trust among coworkers and employees.
What is the best career lesson you've learned so far?
The best career lesson I've learned so far is to remain open-minded and willing to experiment. Throughout my career, I have met so many intelligent individuals, and I have learned and been inspired by a lot of people around me. I am willing to experiment on anything, including machine learning algorithms, team organization, or product feature decisions, which removes my biases and results in strong decision making.
We are in the midst of a tumultuous time. When working from home, how do you stay connected to your team across the region?
2020 was a very difficult year for a lot of people in the world. Fortunately, at Lucidum, we've been able to find a silver lining: we can get almost all the work done online, though it does change how we meet with our valued customers. I stay in contact, as most people currently do, through Zoom and Slack. One thing that has really worked for us is that each Friday, we have a company meeting. We don't really have a standard agenda, but instead we encourage everybody to talk about an open set of topics from the past week. Also we are very open to the team. For example, if Joel and I have a board meeting during the week, we will share the slide deck and meeting information with the rest of the team during Friday meetings.
What is it you enjoy most about your job at Lucidum?
I really enjoy that the whole team understands the Lucidum mission, which is to help enterprise and the government solve the problem of unknown unknowns. I also really like how our software developers, machine learning scientists, data engineers, as well as front and backend engineers collaborate and work towards the same goal. It's amazing to hear customers say "you are really fast at getting out new features," which truly is a reflection of our teams' hard work and dedication to Lucidum.
What's something that excites you about your future with Lucidum?
I am excited about the important problem of asset visibility and management we are solving. Over the last year, I have talked to many CISOs, CIOs, security engineers, analysts, and IT managers, who have all confirmed that we are working on a pressing and common problem. I am excited that our customers have validated that we are taking a strong approach, i.e. without using agents and scanning their network, but using the data and ML/AI to truly solve the unknown unknowns problem. I am excited about the broad list of IT and security use cases we deliver to customers as well as their positive feedback about their product experiences.
How do you spend your time outside of the office?
Well, I love spending time with my family and enjoy conversations with my two college-aged daughters. I also enjoy vegetable gardening in the backyard, and have grown tomatoes, cucumbers, zucchini, green beans, and more. Additionally, I love to run; running has become an integral part of my daily routine and leaves me feeling energized and refreshed.
What's a fun fact about you many people may not know?
Something that not many people know about me is that I love to hike and explore different trails. Personally, I love nature, and hiking in the midst of a variety of wildlife is truly so serene and peaceful. In the past, I have visited a multitude of National Parks in various states, and I really enjoy exploring new terrain, learning about plant and wildlife diversity, and meeting new people.